SamFirm v0.2.2 is a small utility that lets users download the latest firmware for Samsung devices. It is a useful tool for those who want to update their Samsung phones or tablets to the latest firmware version.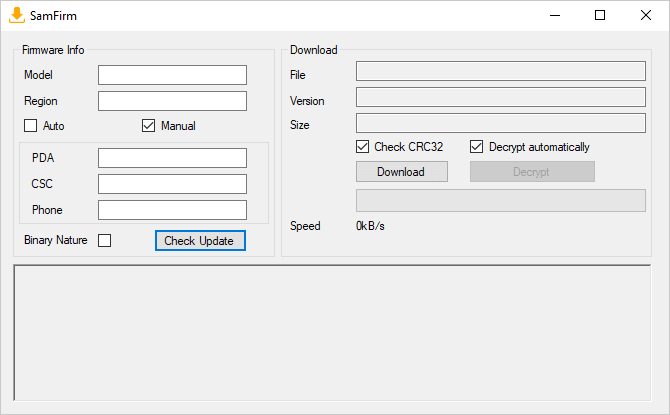 SamFirm v0.2.2 for Windows
SamFirm Tool is a popular utility used by many Samsung smartphone users. It is designed to help users download firmware files for their Samsung devices quickly and easily.
With SamFirm Tool, you can effortlessly search and download firmware files for your Samsung device and use them to update your device's software. This tool is handy for users who want to update their device's firmware manually or who are experiencing issues with their device's software and need to reinstall the firmware.
Some of the Key features of the SamFirm v0.2.2 include:
Direct Downloads: Enables users to download firmware directly from Samsung's servers, ensuring the authenticity and integrity of the files.
Speed: It offers fast download speeds, often faster than alternative methods of obtaining firmware.
Region-Specific Downloads: It provides the option to download firmware tailored to specific regions or carriers, ensuring compatibility.
Search Functionality: Includes a search feature that simplifies finding the appropriate firmware by entering the device model or other relevant details.
Auto Decryption: It automatically decrypts firmware files, saving users the step of manually decrypting them before installation.
Download the SamFirm v0.2.2
| | |
| --- | --- |
| Name | SamFirm v0.2.2 |
| Type | Firmware Tool |
| Developer | zxz0O0 |
| File Name | SamFirm_v0.2.2.zip |
| File Size | 3.76 MB |
| Version | 0.2.2 |
| Supports | Microsoft Windows (32-bit and 64-bit) |
Frequently Asked Questions
What is SamFirm v0.2.2?
SamFirm is a small utility that allows Samsung Galaxy smartphone and tablet users to download the latest stock firmware for their devices directly from the official Samsung servers. It was developed by XDA Senior Member zxz0O0.
How do I install SamFirm v0.2.2?
SamFirm v0.2.2 is a portable application, eliminating the need for installation on your computer. Download the SamFirm v0.2.2 onto your computer, extract the contents, and open the "SamFirm.exe" file to launch the program.
How to use SamFirm v0.2.2?
First, download and extract the SamFirm v0.2.2 on your computer. Then, open SamFirm.exe to launch the tool. Next, Enter the model number and region, then click "Update". Once the latest firmware is available, click "Download" and choose the location to save it on the computer. Alternatively, you can follow the instructions on How to use SamFirm to download Firmware.
Is SamFirm v0.2.2 Free?
SamFirm v0.2.2 is a free firmware downloading tool for Samsung devices, commonly used by technicians and individual users.
Is SamFirm v0.2.2 Safe?
SamFirm v0.2.2 is an official release from XDA Senior Member zxz0O0, evaluated for safety and security on PCs, laptops, and mobile devices.
Where can I find Samsung driver?
If you are looking for the original Samsung Driver, then head over to the Samsung USB Driver page.